After living in California for 4 years, I FINALLY got to go to the San Francisco area at the end of July. We took the Coast highway up there. What a beautiful drive!
Here are some pictures from my trip.
Scott and I north of Big Sur on the drive up.
I spotted these old pilings sticking out of the water during low tide as I was taking a stroll around Coast Guard Island my first day there.
Later that afternoon on my first day, we went to Fisherman's Wharf for dinner. We put the top down on the convertible so I could take pictures as we drove across the Bay Bridge into San Francisco. Took this picture of Scott as he was driving.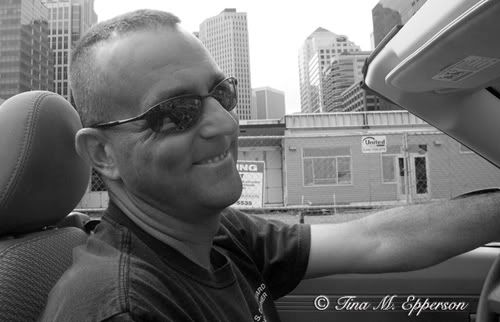 After dinner, we went to the Golden Gate Bridge. We walked out to the first set of towers. It was a freaky walk out there! When would stop to either take a photo or look over the side, with all the traffic going across, the bridge vibrated! *LOL* Here's Scott on the bridge.
Later in the week, we made a trip to Napa Valley. We got stuck in traffic and didn't make in time to do any wine tasting. I was quite disappointed, but I did manage to get a couple of shots.
This is the tower at Robert Mondavi Winery. It's the same one that is on the bottles of Robert Mondavi wine bottles
And this windmill is right across the street from Robert Mondavi Winery.