This week California is being hit by a series of storms. The first 2 have come and gone leaving a wake of destruction behind. Along with yesterdays storm, it produced lightning, thunder and several waterspouts. This morning, the weather forecasters are saying that storm #3 that is due to arrive sometime today is supposed to be the worst.
Here are a couple of photos from yesterdays aftermath.
This is looking down on White Point/Royal Palms. The beach was closed due to part of the hillside washing away.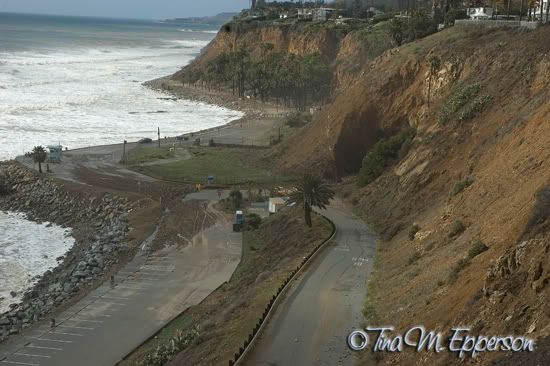 Here is the end of 25th Street, where San Pedro ends and Rancho Palos Verdes begins. With the extremely heavy down pour, there was a small mudslide that covered 25th St. The road was closed for several hours during the clean up.